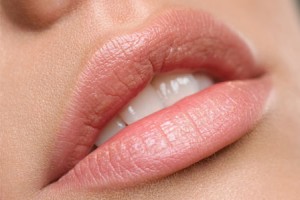 Think of your lips as a sponge. When exposed to moisture, they absorb water and plump up. When dehydrated, they dry out and shrink.  And, because they're always exposed, they're prone to dehydration, particularly during the cold, windy winter months.
Our lips move flexibly, smiling, frowning, forming words, or puckering for a kiss. And they're made of some of the thinnest layers of skin on our body, making them receptive to touch and sensation. That thinness makes our lips vulnerable to drying, chapping, and other surface changes.
Get Better-Looking Lips — Fast
With a little loving care, your lips can be perfect in no time. Just follow these seven steps — and then pucker up!
Take a water bottle with you wherever you go. Drinking enough water (the equivalent of at least 9 cups daily) will keep the body, skin and lips hydrated.
Lick the smacking habit. Licking your lips damages the protective barrier, which can dry out the lips. Instead, regularly apply lip balm.
Know thy balms. Look for hydrating ingredients like beeswax, shea butter, vitamin E and almond, jojoba or coconut oils. Good old petroleum jelly (think: Vaseline) works well too.
Plug in a humidifer. It can replace moisture in dry indoor air, keeping your lips (and your skin) hydrated.
Exfoliate when necessary. Lip exfoliators (products that contain fruit-acid-based alpha or beta hydroxy acids) slough off dead skin — much like the ones you'd use on your face.  If you have sensitive skin or your lips are severely chapped or cracked, use these products cautiously [no more than once weekly] as they do contain acids that can irritate skin.
Protect, protect, protect. Lips are susceptible to sunburn since they lack melanin, the pigment that helps shield skin from the sun. Apply a layer of a sun-protective product daily.
Don't make matte forever. Matte lipsticks can be extremely drying (which helps these lipsticks stay put for so long). That's why you should use them sparingly when your lips are extremely chapped. Instead, alternate use of them with hydrating lipsticks (as indicated by ingredients like vitamin E and/or glycerin) or add a layer of moisturizing lip balm underneath.